Report Doping
URINE SAMPLE COLLECTION PROCESS
Drug testing will be a part of an athlete's life as long as he/she chooses to compete at an elite level. It may not be the most glamorous part of an athlete's career, but it is critical in the global fight for clean sport.
Athletes subject to USADA drug testing may be subject to both in- and out-of-competition testing. This page outlines the in-competition testing process for a urine sample collection. The procedures for providing and processing a sample collection during the out-of-competition testing process are similar and are depicted in the video to the left.
All videos are copyrighted property of the U.S. Anti-Doping Agency. The material contained within may not be reproduced, distributed, transmitted, or otherwise used, except with the express written permission of the U.S. Anti-Doping Agency.
Explore the Steps of the Urine Sample Collection Process
Selection and Notification
Doping Control Station
Provision of Sample
Sample Processing
Athlete Selection and Notification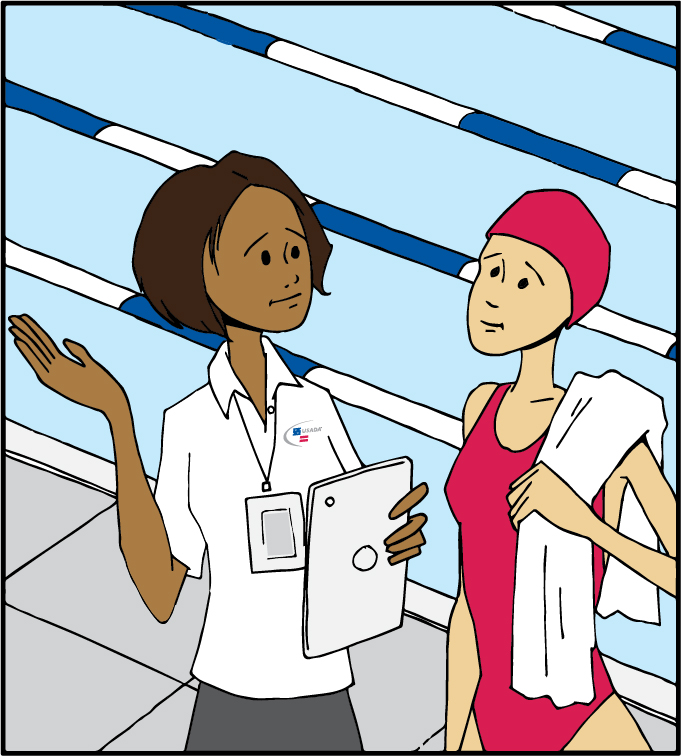 USADA's drug testing program allows for athletes to be selected for testing both at a competition (in-competition testing) or without any advanced notice (out-of-competition testing) which can occur at any time and at any location. Athletes will be notified of their selection for doping control, by a USADA Doping Control Officer (DCO) or USADA chaperone. At the time of notification, the athlete will be informed of their rights and responsibilities during the sample collection process and be asked to provide photo identification.
General
Medicines and Medical Care
Supplements